Founded in 2007, OME specialize in making platic injection molds and molding plastic parts for medical, automotive, electronic, house appliance and other industrial fields.
OME covers an area of 20,000 sqm (216,280 sq. ft) and has 300+ employees. The plant is equipped with advanced tooling machines from Japan,
Switherland and Taiwan. The machines enable us to provide high quality mold and molded parts to customers all over the world. In order to meet the growing demands, we moved to a new plant in March of 2014 and purchased more CNC and EDM machines. Now this plant concentrates on mold base building and tool trials.
In September of 2021, OME set up a new plant. The new plant, which is 200 meters away from the first plant, is for tool making, tool assembly and injection molding. We invested more machines such as Makino 5-axis CNC, GF 5-axis CNC, Makino EDM, Sodick Wire-cut in the new plant for mold making and built 1 clean room molding shop (100K class) with 20 Sumitomo electric molding machines.
OME has been in business for over 16 years and now grown into a world-class tool maker, providing more than 600+ tools and plenty of injection molded products to customers in North America, Europe and other countries each year.
We look forward to working with potential customers.
Success Story: Medical Part
Success Story: 5 Second Cycle

Success Story: 2-Shot Medical

Success Story: Assembly of Manifold Top
OME build all 4 tools and supplies the subassembly to final customer in Israel.
We can help our customers by supplying single molded parts or by providing assembly services.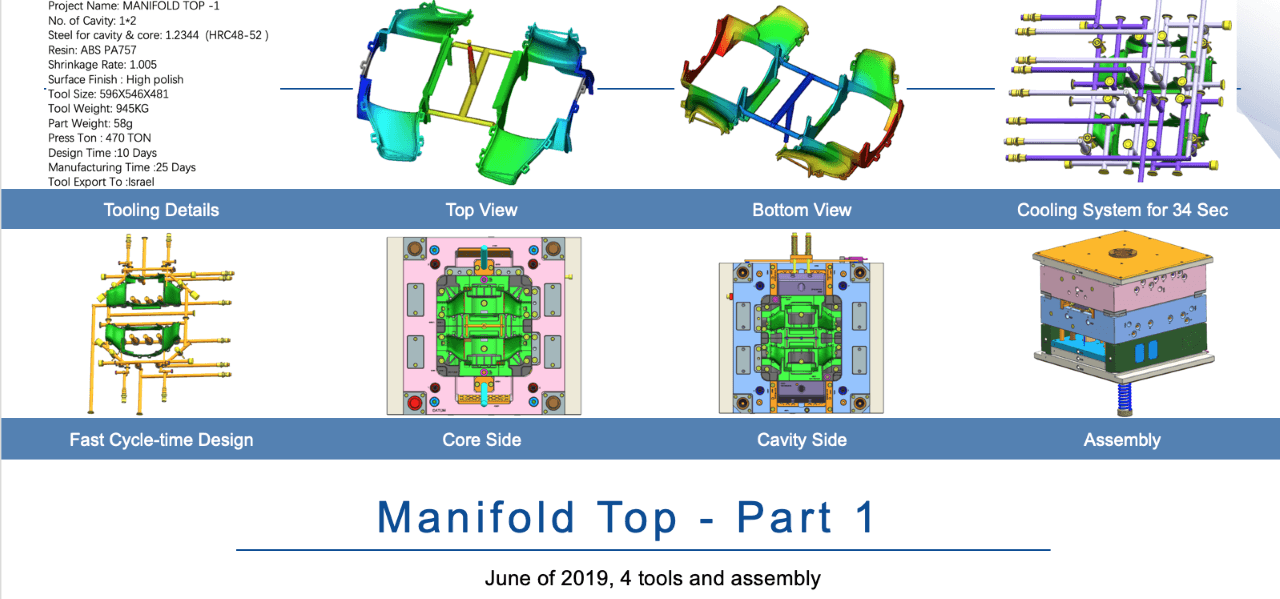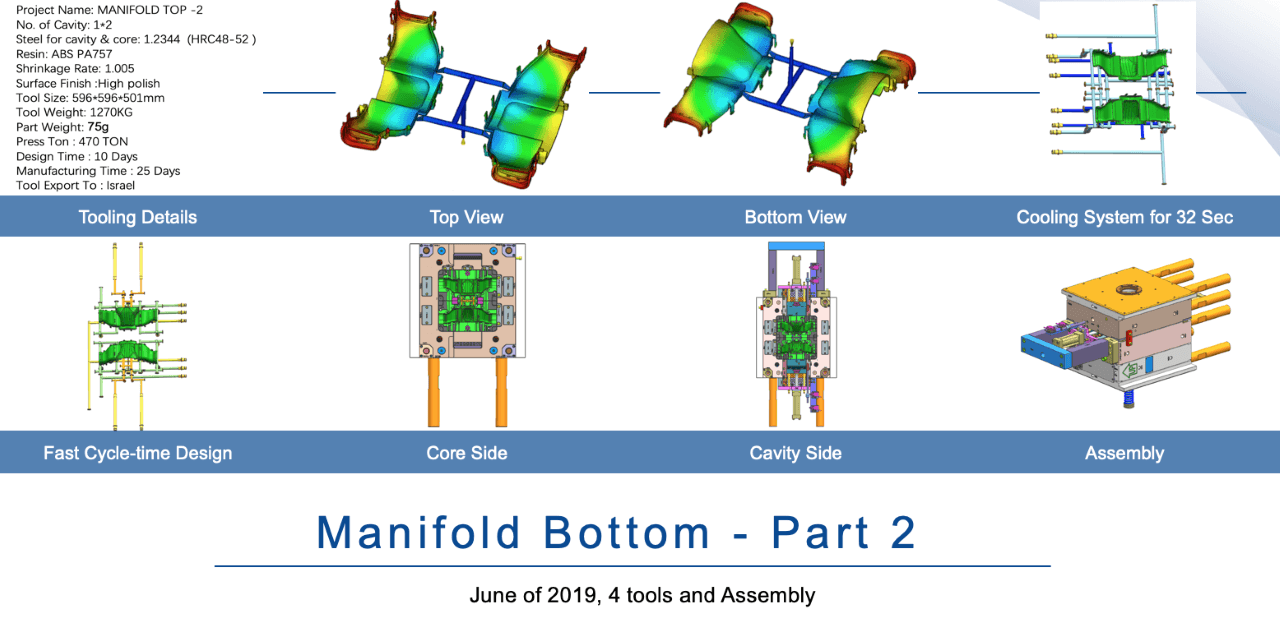 Success Story: 2K Rotational Success​

Part name: Car brand lamp
No. of Cavity: 1+1, (2-shot rotational mold)
Steel for cavity & core: 1.2343ESR (Groeditz) , HRC50-52
Injection System: Hotrunner connector configuration (INCOE)
Resin: ABS/PC & PC
Shrinkage Rate: 0.55%
Surface Finish : A-Surface (visible/cosmetic part areas) 1000 grit
B/C-Surface (partially visible or invisible part areas) 600 grit
Tool Size: 396 X 446 X 375mm
Tool Weight: 400 kg
Part Weight: 8 g
Press Ton: 110 Ton
Design Time: 2 weeks
Manufacturing Time: 5 weeks
Export: Germany, December 1, 2018
Success Story: Automotive Light Housing
December of 2018, complete program in 8 weeks including design and adjustments after T1. Program shipped to Germany for production after Trial 2.
Our recommendations resulted in elimination of distortion during ejection and reduced cycle time.
Success Story: Multi-cavity Tool Sucess
Success Story: Foam Raw Mold Success